Welcome to Workplace Futures 2023
Workplace Futures is back on Tuesday 21st February at One Great George Street, London, SW1P 3AA.
First launched in 2007, each year's event has a different theme, with the programme carefully designed to focus closely on current and emerging issues at the time. We always aim to bring together some of the best speakers available to shed light, share information, and provide insights and advice that have real value. Read about past programmes here.
If you would like to find out about joining us as a sponsor for 2023, please get in touch.
---
Welcome to Workplace Futures 2023
Technology in the workplace: beyond the information age
WORKPLACE FUTURES – THE FM CONFERENCE

The Information Age has seen us embrace technology and the resulting data – collecting it, analysing it and converting it (with greater or lesser success) into strategies and decisions that deliver real benefits. In part, this is why the era we are currently living in is defined as the 'Information Age'.
In facilities management, for several years the discussion has been around the opportunities that the power of technology offers to change much of what we do for the better – more of the right information faster, more insight into problems and solutions, more efficient use of resources, better outcomes, better personal experiences.
Going beyond the Information Age, will lead us to an era when machines will ultimately be smarter than people, though it is hard to determine how far into the future that will be – especially for FM. This new era, already defined as the Imagination Age will see creativity become a primary creator of value. We all have the opportunity to collectively imagine, create and define the future we want to inhabit and work in, before it arrives and we lose much of the chance to shape it. We are already experiencing how the pandemic has fast-tracked how, where and when we wish to work, and how the workplace needs to respond, to be transformed and to provide an environment for collaboration and creativity, despite the notable resistance by some organisations to invest into the future.
---
Workplace Futures: Watch see what's coming in 2023
---
Workplace Futures 2022: Call to Action with Lucy Jeynes
---
Our Sponsors
IF YOU WISH TO BE INVOLVED AS A SPONSOR PLEASE GET IN CONTACT WITH US
With thanks to all our sponsors for Workplace Futures 2022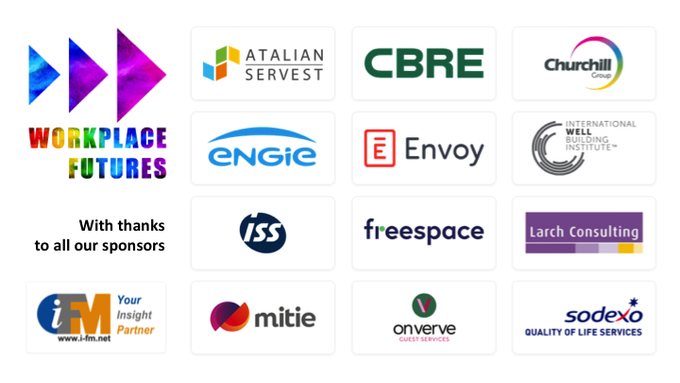 ---
Past Conferences
ACCESS WHITE PAPERS AND SLIDES FROM PAST CONFERENCE